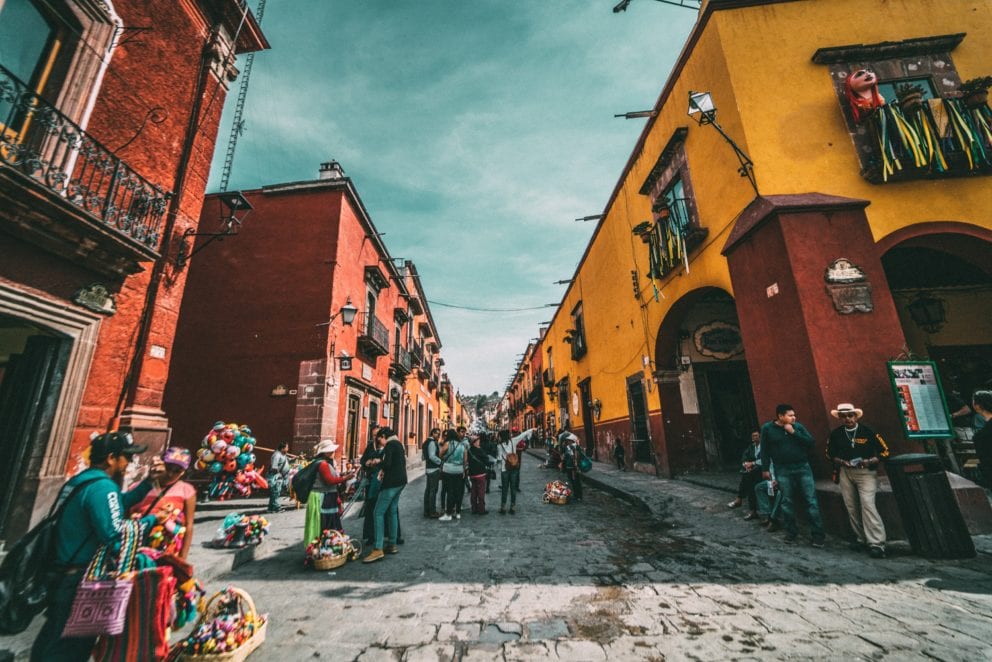 There are a lot of ways to define wellness. Renowned yoga teacher Elena Brower defines it as "your ability to respond rather than to react;" Dr. Mark Hyman says it's the integrated care of every aspect of ourselves: Physical, mental, emotional, spiritual, and relational. Wellness activist Kerri Kelly believes that "wellness is the culture of how we take care of ourselves and one another."
However you define it, one thing is certain: Around the world, people are becoming increasingly interested in what it means to be well. And while we wholeheartedly disagree with the idea that wellness necessitates consumerism—you do not need expensive cushions, treatments, or infused juices to be well—a not-so-deep dive into social media reveals that superfood smoothie bowls, cupping marks, and guided meditations are definitely having a moment. Wellness, that is, is trending. And it's not just in the US: Around the world, teachers, practitioners, and consumers are redefining mindful living through buying choices they make every day.
In celebration of Passport—your ticket to an unlimited number of the 50+ Wanderlust events around the world—we're taking a deeper-than-social-media dive into worldwide wellness trends looking toward 2019. Journey with us as we stretch our scope and explore both the similarities and differences in our global community.
This week: What's trending in wellness throughout Mexico.
A Ritual For Release
This ritual may not be for the faint of heart—in all seriousness, though, people have been known to faint during this practice. Some people are drawn to Mexico specifically to seek out this traditional and unique cleansing experience. A Tezmacal Ritual will undoubtedly challenge your will, take you out of your comfort zone, and offer an unlike-any-other mind, body, spirit, and soul cleansing experience. Oh, and if you're claustrophobic, or afraid of the dark, add: confronting fears and phobias head on to the list of things you'll experience through Temazcal.
A Temazcal Ritual takes place inside of a small—generally fitting about five people—stone igloo-like hut. In its center sits a pit where hot stones are placed, and surrounding the pit are mats for attendees to sit at. A towel is placed over the small entryway, closing everyone in, and water is poured over the stones. It's hot, steamy, sweaty, and to many a bit overwhelming. There is chanting, drums, and the use of therapeutic herbs, too. In totality, the experience can last anywhere from 30 minutes to upwards of two hours.
Benefits include sweating out toxins, both physical and emotional ones. When the ritual ends, and the door is opened, the steam that exits the space can be symbolic of what everyone inside is letting go of. It has also been said that the ritual is incredible for the skin.
If you can handle the heat, this is one experience that packs a punch of healing, cleansing, and tradition into a small, but mighty hut.
Healing The Heart
Another gift from ancestral culture, and another unique—but far less intimidating—way of seeking out healing in Mexico? Cacao ceremonies.

Back in the time of its origin, cacao was believed to be purifying for the body, and able to heal a variety of physical ailments, too. According to Culture Trip, in the Aztec culture, "xocoátl (the bitter chocolate drink)" was given to sacrifices "to purify them before death, and it was also used to relieve stomach pain, colds and fevers."
Culture Trip goes on to reveal that it was also thought to have aphrodisiac effects—which may have something to do with its more modern use in cacao ceremonies as a heart opener, and perhaps why chocolate is sometimes synonymous with love (looking at you, Valentine's Day chocolate hearts).
In most modern cacao ceremonies, the ceremonial-grade raw cacao is served in a liquid, drinkable form, and the liquid is shared among the ceremony attendees. Though every ceremony is different dependent on the energy of the group involved, most ceremonies will include music, dancing, meditation, internal reflection, and even open group sharing.
It is, in most cases, a very emotionally-charged healing experience, as a writer for The Numinous notes, "everything feels heightened within the physical and emotional body, including your awareness to your deepest sense of self and to your heart."
Mindful Makers
By now we know that meditation comes in many forms, from deep breathing in a forest (a la Shinrin-yoku), to sitting on a tradition meditation pouf and finding your zen, to the more physical ways of quieting and clearing the mind, like knitting, or, in Puebla, making ceramics.
Talavera ceramics are steeped in Puebla's history, and it's an integral part of the city's aesthetic and culture. So, it's no wonder that learning to make this traditional art is something that both locals and visitors love to do. As creating something—be it a painting or a piece of pottery—can be a rewarding process, it is also one of deeply mindful, thoughtful action, and one that requires intense presence, qualities that often go hand in hand with wellness.
In addition to being able to visit Talavera workshops and learn from artisans firsthand, Talavera's influence has also made its way into spas. At Rosewood Puebla's spa, visitors can enjoy a Talavera massage. Rosewood honors traditional Talavera in its therapy by "utilizing the centuries old, hand-made pottery," to "incorporate its warmth and mineralizing effects on the body to replenish and balance your overall health."
Good Vibrations, and Good Energy
From clearing out energy blockages, to manifesting the power of sound through sound healing, and vibrational therapy, Mexico is having a moment in alternative spiritual healing methods. 

All throughout Mexico, experiences abound for those who are feeling in need of some internal realignment. With the use of voice and instruments, the vibrations and melodies of sound healing are believed to offer up a deep sense of calm, stress relief, and even physical pain relief. Some sound healing practitioners throughout Mexico call in traditional elements to elevate the bespoke experience. Yaan Wellness uses, "sacred shamanic instruments such as gongs, crystal & Tibetan bowls, Mayan shells, and didgeridoo" during the practice.
Spiritual retreats are offered in various regions of the country that allow for true exploration of the mind, body, and spirit in a safe and sacred space. In addition to sound healing, chakra balancing is offered, guided meditation practice, yoga, awareness exercises, crystal therapy, reiki, and one-on-one session with shamanic healers—some places even offer a session with a shaman for dogs, because everyone deserves the serenity that comes with mind-body connection.
Wellness is a state of being and a way of living. For some, a wellness practice could be laying in a hammock, listening to a podcast, watching the clouds roll by; for others it's bounding up a 14,000-foot summit, blood pumping, adrenaline screaming. There's no wrong path to take on the journey to mind-body wellness, and there are countless interesting and inspiring trends within the wellness world to get you there. 

We hope this series will bring new practices, new experiences, and new thoughts around wellness, and how to find the perfect recipe of what works for you—wherever you are in your wellness journey, and wherever you are in the world.
1
The post ¡Vamos a México! Chido Wellness Trends in 2019 appeared first on Wanderlust.